One of the ladies from my triathlon club sent me a letter this week that really meant a lot to me. My friend was already a good runner when she joined the club, but she couldn't swim well at all, and she was hoping I could help her with it. So we worked on it, and eventually, she got to where she swam very well.
And then she sent me this. I edited it a bit to protect her privacy.
I don't know that I can ever thank you enough for teaching me to swim. In the weeks since we first met at the Tri-Club Information session (what 12 weeks to the day?) I knew that this time the stars had aligned and sent me the Coach that would get me to finally crack the code and truly swim. I can not put my finger on it but there was something in your "resolve"—that Dan could teach it and I could learn it—that made me a believer from the start. It's a gift Dan, in two ways. You are a gifted and generous teacher and giver. I am a grateful receiver of this gift that will forever enrich my life. I will not soon forget what you have done for me. Swimming has not only become a new tool in my fitness chest, (along with the bragging rights from my first Tri) but it will allow me to enjoy the beach with my family from the water now instead of feeling land locked in the sand (I cannot wait till the water is warm enough to swim in, I am itching to swim in the sound). I feel safer, more responsible, and a better example to my children. Still best of all is that now my time in the pool has become very cathartic. I am finding that my first 30 minutes in the pool, when I am struggling most to get my breathing in sync, my body level and actually feel smooth, is not really due to any anxiety in the water. Instead it just takes me that long to quite the other noise in my life and just glide. THAT my friend is the sweet spot I am most thankful for.
SO DAN! I am at your service. Please count on my support in any way. Will you continue the Tri-Club at the Y to prepare for other events? Can I still be a member? I would love to meet and encourage/support others. Perhaps I could help you facilitate other training groups in some way? When is your next race? I'd love to volunteer at upcoming events. I am truly happy to help. Count on me anytime.
Namaste my friend, I am so glad to know you.
So, I answered my friend, but if you're wondering, yes the Tri Club is going to continue. We're meeting again next week, just as soon as I get back from our mini-vacation this weekend.
BTW, my friend also sent me this picture of the awards ceremony on Sunday after the race: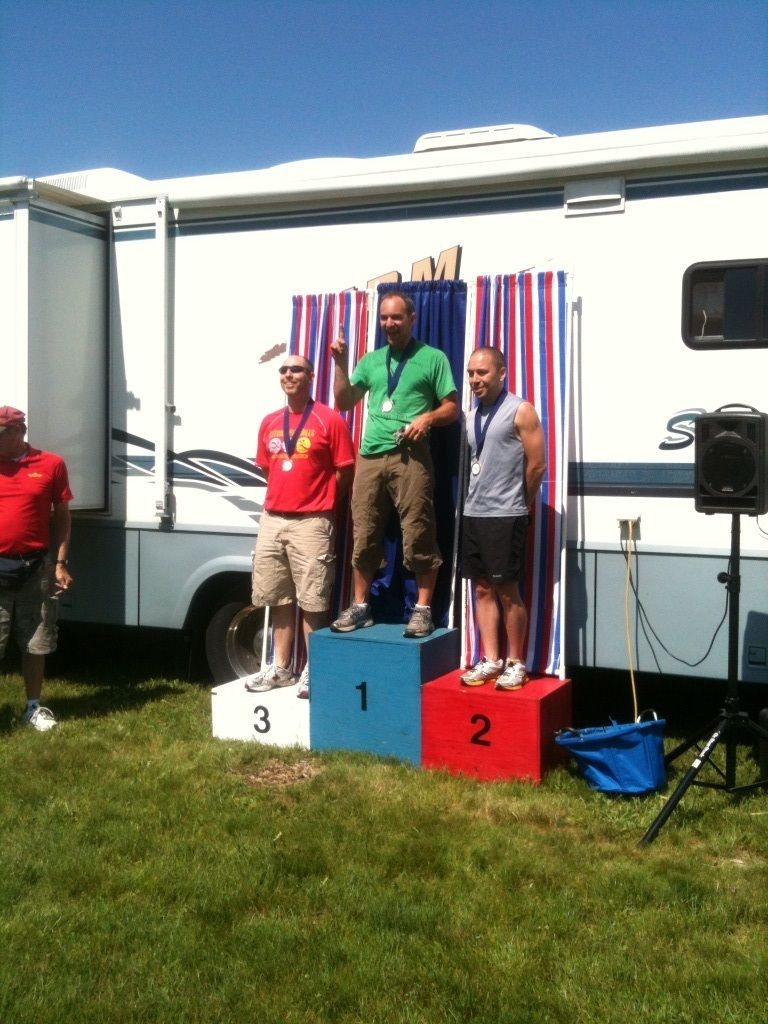 That's me. I'm in the 3rd!