My dad was a great guy, and I miss him tremendously.
Me and my dad, in either 1995 or '96.
My dad was born
Allen Thomas Head, Jr.
, in September, 1946, on the outskirts of Knoxville, Tennessee. Everybody called him
Tom
. He was the son of a railroad engineer who'd served as tank NCO during World War II and his wife, who stayed at home.
My dad's mother smoked constantly during her pregnancy, and as a result, he was born three months premature and was not expected to live. But he did live and was eventually dubbed a "miracle baby" by the attending physician. My dad eventually grew to be 6'5" and wore a size 15 shoe. In fact, despite the circumstances of his birth, he was healthy as an ox for almost his entire life, save for his teeth, which were tiny and which gave him problems, and for the fact that he was somewhat prone to sinus infections. Still, considering the state of "preemie" medicine back in the 1940s, he was very, very lucky.
My father would be the first to tell you that he had a rough childhood.
Allen T. Head, Sr.
was a violent drunk who suffered from depression. To say that my father and his parents didn't get along would be an epic understatement. In fact, my father's father killed himself shortly after my folks got married, an act for which my dad never forgave his own father. When I was growing up, my dad often told me about how his parents beat him whenever he did something stupid, like spilling milk at the dinner table. They also forced him to play trombone in the school band, an act which inspired in my father a lifelong hatred of musical instruments. When my father was eventually offered both a band scholarship and a cross-country scholarship at the
University of Tennessee (UT)
, his parents made him take the band scholarship. Later, when I told my dad I wanted to learn to play the violin, he refused utterly to let me.
Dad went to UT, played in the band, ran cross country as a walk-on for a year, and majored in Transportation and Logistics. I have no idea what that major entails. He pledged
Lambda Chi Alpha
and was fiercely proud of his fraternity for his entire life. I still have his class ring, and you can see clearly that he had the letters engraved right into the stone.
My father first saw my mother at the library at UT and immediately told one of his fraternity brothers, "That's the woman I'm going to marry." The guy laughed because he thought my mom was obviously out of my father's league. As it happened, though, he did woo her away from Roger, my mother's boyfriend at the time. Roger would later go on to become a renowned surgeon in Nashville, and my mom spent her entire life comparing my dad to Roger.
That was bullshit. My dad was ten times the man Roger is.
Right before they got married, my father's mother told him, "You'll never be able to keep that rich bitch in the style to which she's become accustomed." That was also bullshit, but I do sometimes wonder if my dad wouldn't have been better off had he managed to get out of Tennessee as a single man.
The happy couple. I'm gonna guess that my dad was on
mid-tour leave from Vietnam when this was taken.
If you've done the math, you will realize that my father was in college during the Vietnam War. He and (so I'm told) seven of his fraternity brothers decided to join the Marine Corps in 1968. He went to Officer Candidate School, was commissioned, and eventually fought to go overseas because by then the war was winding down. He spent six months on staff and then spent six months as a Rifle Platoon Leader, after which he came home and became a Regular officer. He hadn't intended to make it a career, but in Vietnam, my father found his calling.
This picture was unmarked, unfortunately. I'm guessing that Dad is getting
promoted to 1LT while in Vietnam, but that's only a guess.
Dad came home, went to Army Ranger School, and eventually commanded four company-sized units. He commanded Rifle Companies in the 2nd Battalion, 5th Marines and the 3rd Battalion, 5th Marines, both in the 1st Marine Division at Camp Pendleton in San Diego. Then he was transferred to Norfolk, Virginia, where he commanded the Marine Detachment aboard the USS Nimitz. Then he transferred back to Pendleton, where he commanded a training company at the Marine Corps Recruit Depot (MCRD), San Diego.
Inspection aboard the Nimitz.
My earliest memories are from when my dad was aboard the Nimitz. In two years, he was home for a total of 58 days. People sometimes ask, if my dad was a Marine, why didn't I go to the Naval Academy? It's because I didn't want to be gone as much as he'd been gone during that one tour. Bottom line, I didn't want to spend my life aboard ship.
I think my dad might've been at his happiest while he commanded at MCRD. He was young, life was good, we lived in San Diego, and he loved teaching and loved the process of turning young men into Marines. I remember complaining about drill to my dad one time while I was at the Academy and him becoming confused. To paraphrase: "What's not to like about drill?" You see, my father only ever wanted to be a Marine. He was perfectly content to march around in circles all day in his dress uniform so long as his Marines were dress-right-dress. I should note, too, that my mother's kidneys failed while we were at MCRD, and she eventually had to have a transplant. My father nursed her meticulously during this time, going so far as to learn to work the dialysis machines personally and to do the IVs himself.
I ran my first race while we were at
MCRD. It was a 5K. I was 8.
From Camp Pendleton, we moved to Washington, DC. Dad was promoted to major and became a general's aide. He liked the general, and he liked the area--he became a lifelong Redskins fan--but he hated being in a staff position. He traveled a lot in those days. I later learned that he and the general were walking the terrain in Norway to plan the northern defense of NATO against the Russian horde. He also led my Boy Scout Troop and relived with gusto his glory days as an Eagle Scout and member of the Order of the Arrow. True story: he was as proud to be a member of the Order of the Arrow as he was to be a graduate of Ranger School.
Among many other things, my dad took our scout troop
on a staff ride to Gettysburg while we were in Washington.
I've been wanting to do this with my own kids for a while now.
Dad finished his Master's Degree and ran his
second marathon while we were in DC.
He only ever wanted to be a Marine and wore his
colors proudly at every opportunity.
From Pendleton, we moved to Marine Corps Air Station Cherry Point--one of my least favorite places on Earth. We moved to a town called New Bern, and I wouldn't go back there if it was the only non-irradiated spot on the entire globe following a nuclear war. Everyone was miserable. Dad didn't like working with aviators, and my mother and I both hated everything there is to hate about rural North Carolina. Ugh. Luckily, purgatory only lasted two years. Then we came down on orders to go back home to Camp Pendleton.
My father was selected to Lieutenant Colonel below-the-zone, frocked, and given command of 1st Reconnaissance Battalion, 1st Marine Division. Their motto? Swift, Silent, and Deadly. Or as my dad used to joke, "They're Devil Dog Para-Frogs!"
If I'm being honest, he was crushed that he didn't get to command a Rifle Battalion. Most Army guys dream of going Special Forces and of being "special" generally. The Marines, however, venerate the regular line infantry with the saying, "Every Marine is a Rifleman." They mean it. To Marines, you're special for being a Marine. Hence the saying, "The Few, the Proud, the Marines." But Dad was selected to command Recon Battalion because he'd earned a Ranger Tab as a young lieutenant, and that was that. As it turned out, this was only the beginning of his career as an "operator", but I'm telling you right now, if he'd had his choice, it would have been leg infantry all the way.
We spent two very happy years in idyllic Fallbrook, California. My swimming career took off, and poor Dad, though proud of me, had to go to umpteen million swim meets. Now that my own kids are starting to get into that kind of thing, I feel what it must have been like. Still, he delighted in having a successful athlete in the family, and I don't think it's out of line to point out that he wanted more from my swimming career than he himself got out of his own cross country career. Dad even got into the pool occasionally during morning practices to try to work on swimming on his own. Truth was, he swam like crap. Unfortunately, he got self-conscious about it during his stint at Recon Battalion because he knew they might have to hit a beach wearing fins and swimming gear someday, and he wanted to be ready when the time came.
I've done a lot and have more than my fair share of trophies to prove it.
But my dad's lacquered paddle from 1st Recon Bn is the coolest thing in our house.
After he left command, Dad got orders to Joint Special Operations Command at MacDill Air Force Base in Tampa. I would later learn that he spent most of that time scouting potential air strips in Africa as part of a layover plan for bombers heading towards parts east. During one of these trips, a pair of guys broke into my dad's room while he was asleep, pointed a gun in his face, and tried to rob him. Bad mistake. Dad beat one guy half to death and then threw him out a 13th story window with the words, "Mess with the best, die like the rest, motherfucker." The other guy ran. Dad (amazingly) went back to sleep. In the morning, however, he saw the body, still laying there some six hours later. That image haunted him for the rest of his life.
The Head Family in Tampa, summer 1992.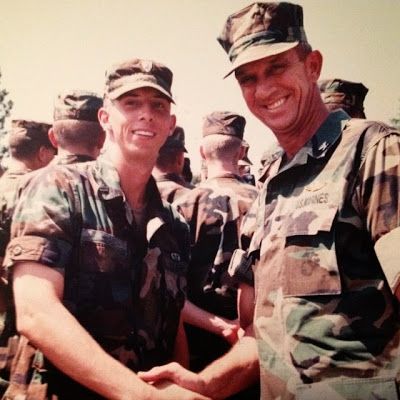 Airborne School, 1993. Dad came down and made my
5th jump with me.
My personal Marine Corps journey ended in 1991. My folks took me to West Point and dropped me off, and from there on, it was all Army for me. Dad went back, was promoted to colonel, did another year at MacDill, and then got orders to become the G-3 of 3rd Marine Division in Okinawa, Japan. Callsign: "Warlord". He seemed to like Okinawa, but my folks' marriage didn't take the blow very well, and among other things, I got the feeling that Dad partied quite a bit while he was over there. By the time he got back, my mother's health had started what would become a long, slow decline, and he eventually wound up at the Naval War College in Newport, RI.
It wasn't a bad gig, but it didn't particularly suit him. Dad was an career infantry Marine, and they had him doing what amounted to a post-graduate study of International Relations. Dad was smart, clever, and funny, but he was in no way
intellectual
, nor did he particularly want to be an intellectual. He thought of himself as a country boy from Tennessee, and he was happy to lead men in the middle of the night, to do manly things with other men, but all that foreign policy crap was not exactly his best thing. He was eventually passed over for Regimental command and was crushed. His mentor,
LTG H.C. Stackpole
, eventually came to his rescue by offering him a job as the Chief of Staff out at Pacific Command, but by then, my mother had convinced my dad to retire. What a waste! Considering that my mom left my dad a half-decade later, he should've walked out on her then and gone to Hawaii.
My folks in Newport, RI.
Another Marine Corps saying, "Your wife gets to write the last set of orders."
My father wanted to move back to Washington, DC, but Mom wouldn't have it. She wrote orders to Middle Tennessee, where my father first tried to sell life insurance and then tried to be a City Administrator. He served in Manchester, TN, and then in Lawrenceburg, TN. To be fair, he wasn't a bad City Administrator. As I said, he was clever, and he was a terrific leader. But he had a hard time with the corruption inherent in small town politics, and in both places, he became disillusioned pretty quickly.
He finally said to me, "These are the people I spent a lifetime defending? I can't believe it. They don't deserve it!"
***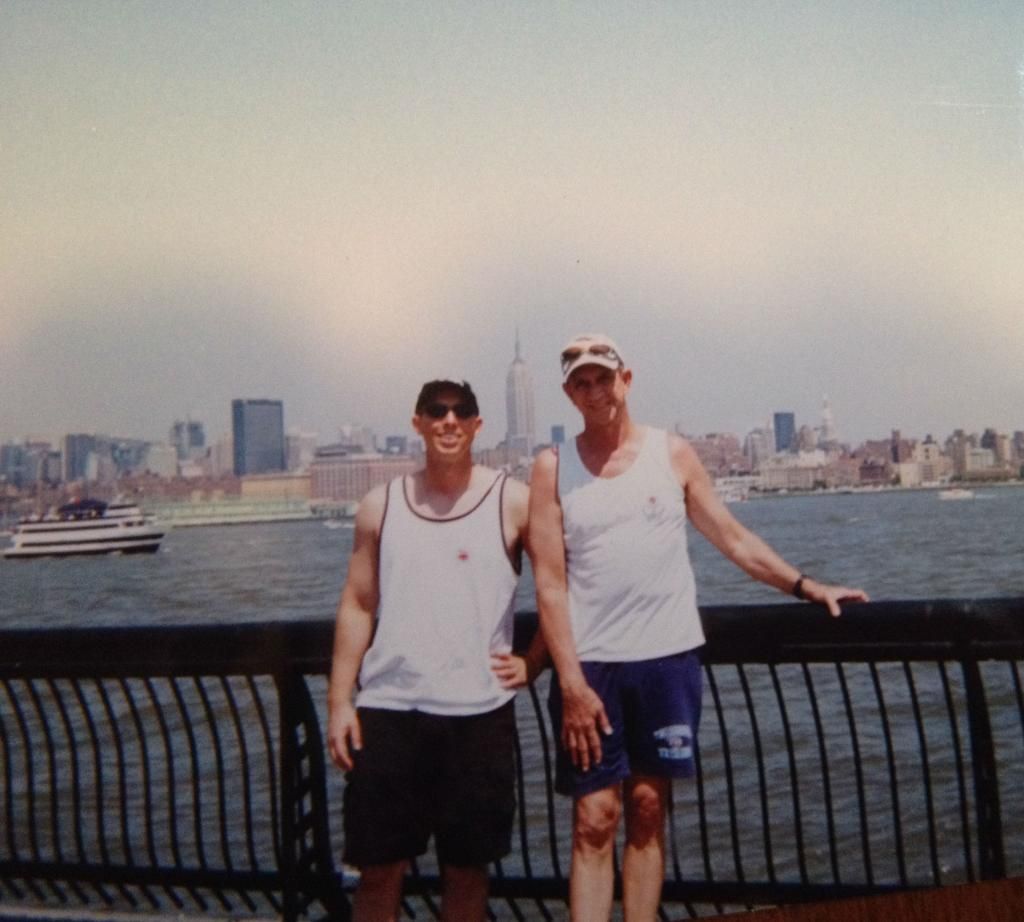 Me and my dad in 2002, after I'd moved to Hoboken.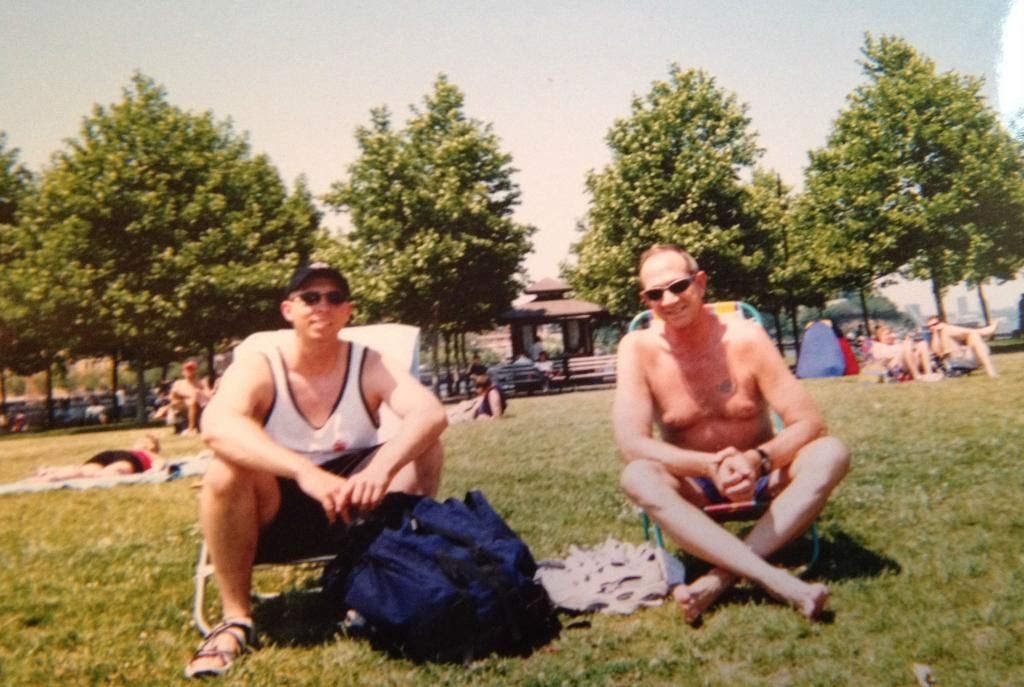 Same trip. We're down at Pier A in Hoboken.
We had a good time that day.
I've debated how to end this story since before I started writing it. In the end, I've decided just to tell the unvarnished truth. Like it or not, my father has one more lesson to teach, and it's a cautionary tale for my classmates who're still in the Army.
I love you guys much, much more than you know. And I'm not gonna lie, I worry about you. A lot. Do not ever think that you are alone. You can crash on my couch, really, and we'll figure it out.
So.
My dad spent his entire life building his body. He wanted nothing more than to be the best Marine that he could possibly be. He ran two marathons, a slew of half-marathons, and a zillion smaller road races. He was an avid weightlifter, and at forty, he famously walked the young men of Recon Battalion into the dirt with a rucksack on his back and then kept going, daring them to keep up. He taught me to run, and he taught me to lift weights, and he inspired in me a lifelong love of fitness that I strive daily to teach my own children. My dad taught me that if you want your kids to win, you have to be a winner yourself. Want to see your kid on the podium? Get there yourself, and let your kids see you do it.
But after my dad left the Marines, he was rudderless. He finally crawled into a bottle, and when he did, he did it with the same gusto and determination that he did everything else in his life. In a decade, he destroyed himself, became less than a shadow of the man he'd been, and one of the biggest reasons I moved to New York was to get away from the sheer horror of watching it. My mother abandoned him, and while I tried to get him to go to AA, he just didn't want to do it. All he ever wanted was to be a Marine, and when he couldn't be that anymore, he didn't want to be anything at all.
I will say this: the Marines took him back. They didn't leave him behind. He is still one of them. He is still a Marine.
Truthfully, he's where he'd want to be.
He's buried at Arlington in the same plot as the 9-11 memorial. If you want to say hi, he'd probably appreciate it. He was a friendly, funny, caring man, and I respected him tremendously. He spent his entire life making sure that we have the freedoms that we take for granted in this country every single day. He loved doing it. He loved being a Marine.
Semper Fi, Dad.
Happy Memorial Day. I love you.